The Team at Rooftop Solar would like to congratulate Flagstaff Collision Center (FCC) on their brand new facility… Flagstaff's first renewably-powered collision center!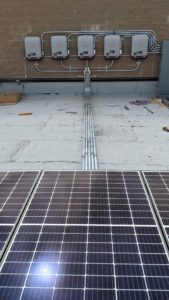 FCC is a primary source for collision repair services in Flagstaff, providing a wide range of guaranteed services from bumper and car dent repair to free collision repair estimates.We were proud to partner with the Flagstaff Collision Center and their construction contractor, WesPac Construction, to help this new facility harness the power of the sun by installing an 83.2 kW solar array at their new location in East Flagstaff. While Flagstaff Collision Center joins many many in the automotive industry who have gone solar, it is the first of its kind here in Flagstaff. Collision centers, auto dealers, and associated retailers are great candidates to benefit from solar energy because they have high energy bills which are also predictable with seasonal changes.  Over the next 25+ years, Flagstaff Collision Center can be proud that their business operates with clean, renewable energy and reduces overhead costs. 
Installing commercial solar during the construction process involves much more than just solar expertise. With over a decade of experience as a general contractor, our team ensured that this project met the unique structural requirements for building with solar in Flagstaff. Rooftop Solar was able to consult with both WesPac Construction and Flagstaff Collision Center by analyzing the facility's building and roofing designs, and offer a solution that was both affordable and structurally optimal. When executed correctly, new construction is a great time to install solar panels for businesses because it reduces the risk of requiring future structural upgrades and creates a seamless experience for the business owner. Having worked with several general contractors in Northern Arizona to include solar energy in their new build, Rooftop Solar has the experience to provide a wide array of services, from acting as a subcontractor for the installation, to full turnkey services. 
By going solar, Flagstaff Collision Center is showing that they are dedicated to keeping our Northern Arizona community thriving in the long run. In doing so, the business has also created an impressive investment that will eliminate its cost to APS and create a hedge against ever-increasing utility rates for the next 3 decades. As consumers begin to think more environmentally minded, businesses who are investing in solar are not only saving on electricity, they're attracting more customers as well.
Over the life of this solar system, it is expected to produce an impressive 3,292,000 kilowatt hours of electricity! That's the environmental equivalent of offsetting 2,328 Metric Tons of Carbon Dioxide from emitting into our atmosphere, 2,564,669 lbs of coal  from being burned, or 5,389 barrels of oil from being consumed (epa.gov). This is an impact that FCC can be proud to make–and their customers can be proud to support.
It is amazing to see another local business that is setting a positive example for our community, and will continue to do so for 30+ years. As a new business to our community, Flagstaff collision center is already paving the way for other businesses to help our environment and benefit from solar energy. Our team would like to warmly welcome Flagstaff Collision Center to the Rooftop Solar Family. We are proud to partner with them and their dedication to our Arizona Environment! 
Interested in the benefits of solar for your business or nonprofit commercial building? Schedule a free consultation with our Commercial Project Developer today and find out why so many businesses are switching to solar energy!