Maybe you've had your door knocked on recently by someone wanting to sell you solar? Or read an article or gotten an email about a "solar coop" by an out-of-town organization trying to get you to sign up for exclusive deals?
With APS about to lower their solar credits, interest in solar is at an all-time high. Unfortunately, that means a lot of people are getting harassed by out-of-town solar companies trying to make a quick buck. We're excited to see so much interest in solar, but before you make a decision there are a few things to look out for.
1. If you feel pressured to make a decision, then don't make the decision.
There are some incentive changes you want to be aware of but you still have time. You're about to make a decision about a solar system that will be a part of your home for the next 30 years. Make sure you have time to research and know what you're buying and from whom before you buy. Any company that says you "have to sign now, or else…" is a red flag. Rooftop Solar offers a no-pressure apples-to-apples consultation. We can help you understand all of your options so you can make an informed decision.
2. Use a company that lives in the same community you do.
Putting solar on your house is pretty easy, but getting an out-of-town company to help after you've gone solar, not so much. Make sure you choose a company that has an office, warehouse, installation crews, and service department that live and work in the community. Solar is dependable but Rooftop Solar has a dedicated service team for a reason.
3. Solar works differently in the desert than in the mountains.
There are a lot of different types of equipment to choose from. Rooftop Solar designs custom-built systems with equipment that makes the most sense to your situation. Shading, heat, and snow can all affect your system. Some equipment does not work as well as others.
4. Not all warranties are created equal.
Many companies claim to have "lifetime warranties" to put your mind at ease. Unfortunately, many of these warranties don't cover the most important parts of your system. In addition to manufacturer and company warranties, Rooftop Solar offers a unique 3rd party, 30-year warranty that protects your entire system (parts and labor).
5. Low-interest financing rates, don't mean low cost.
There are a lot of clever financing companies out there. Many of them will hide dealer fees behind the low-interest rates. Rooftop Solar offers an exclusive credit union option to give customers a low interest, no hidden fee financing option so you can get the best long-term deal for your system.
6. "You mean LOCAL-local or installing locally?"
Just because they say they are "local" doesn't mean they are. Many door knockers and "local solar coop" will claim to be local but are not based in Northern Arizona. How can you tell the difference? Ask them where their office and warehouse are. Ask them if you can stop by the office. Ask them if their installers live in town. Rooftop Solar is LOCAL-LOCAL. In fact, in the last year, Rooftop Solar has installed more than twice as many systems as the next 4 biggest companies combined in Coconino County.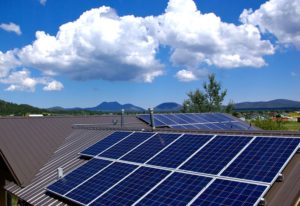 In case you're wondering- yes, solar does make sense. But before you "go", make sure you know what you are signing up for and choose a company that will be here as long as your system. To compare quotes or talk to one of our Project Developers for a free consultation click here.
Why You Should Pick A Local Solar Company
Important factors to consider when choosing a company include system customization options, knowledge of local laws, regulations, permit processes, communication, and the warranty provided. When considering all of these factors, it makes sense that local solar companies are the preferred, dependable option when going solar.