APS has asked for a yearly revenue increase of $772.27 million (22.9%), $459.84 million (13.62%) of which will actually be experienced in customers' bills. This difference is accounted for by a test year adjustor revenue transfer (-$107.83 million), a Power Supply Adjustment Mechanism ("PSA") revenue reduction (-$220.59 million), and a Renewable Energy Standard Adjustment Clause ("REAC") revenue increase (+$16.09 million). All of these but the REAC are charges APS is asking for directly from the state.
So, of course, we still pay for these adjustors, just not in our power bills. The adjustors are intended to (A) make up for the losses APS was not allowed to reclaim from last year's closing of power plants, (B) account for fluctuations in the cost of natural gas, at least 40% of which is imported from out of state, and (C) account for the cost of meeting Arizona's renewable energy requirements.
APS claims these rate increases will help improve reliability and renewable energy projects as well as customer service. They also report that their rates have remained mostly unchanged since 2018. APS reports this will increase the average customer bill by 13.6% monthly or about $18.
This process was started last October and is expected to wrap up this fall.
Here is the schedule for public hearings in this case: 
And here is the revenue broken down by customer type: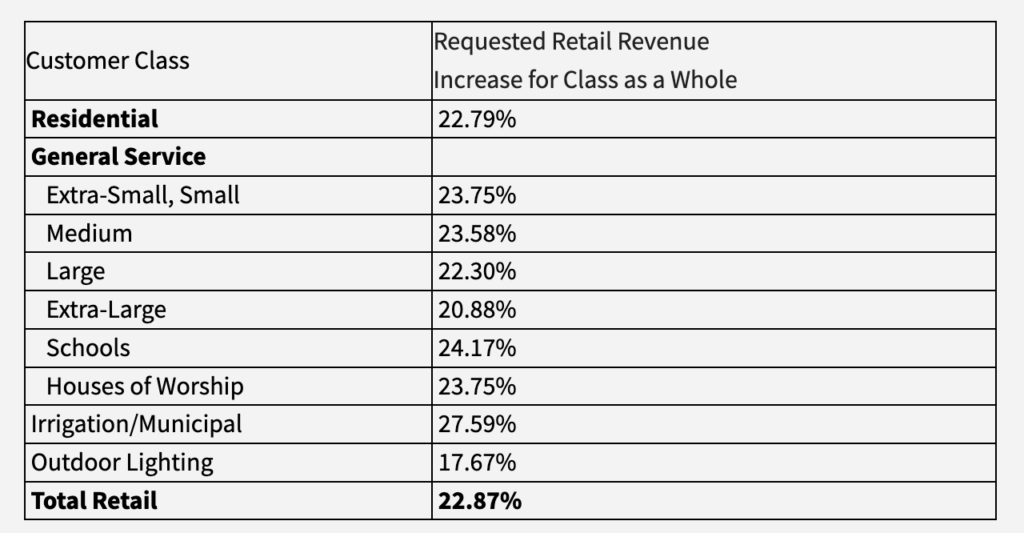 If approved, the new rates will go into effect on December 1, 2023.
Read more:
https://www.aps.com/en/Utility/Regulatory-and-Legal/Public-notice
https://www.aps.com/en/Utility/Regulatory-and-Legal/Rate-case
https://dailyenergyinsider.com/news/37291-arizona-public-service-files-new-rate-case-for-460m-annual-revenue-increase/
https://www.azcentral.com/story/money/business/energy/2022/12/16/aps-customers-could-see-20-dollars-per-month-bill-increase-for-natural-gas/69734406007/